NHS England and Wales
Dentally is designed with the complexities of the NHS in mind. Submitting, managing and reporting on your NHS work is simple with Dentally. Patient records show any relevant exemptions and you can submit claims directly from the patient chart with just a few clicks when you complete the plan. Manage the status of your claims, and track your UDAs with real time reporting so you can keep on top of your NHS contracts and get paid in a timely manner.
Exemptions
Patient exemptions are easy to manage in Dentally. Simply select the relevant exemption from a drop down menu and record the evidence of the exemption certificate and expiry date. Dentally automatically applies that information for any treatment plans containing NHS items for that patient and ensures your records are always up to date. Exemptions are always visible at a glance from the patient record. From options for continuation, referral or urgent claims, you're in control. Read more.
Claim submissions
At Dentally our aim is for error-free claims submission and fast feedback. Our easy-to-follow workflow takes you through the process directly from the patient's chart to submit all the relevant information for your claim. Each claim submission is queued for an hour to allow for late additions and amendments before it is sent to the NHSBSA Claims Processing department. Automatic daily schedule updates mean that your UDA count is updated immediately after the claim is processed and returned. Keep an eye on your notifications centre for any messages relating to unexpected errors, so you can resolve them quickly and simply resubmit. Successful and problem claims are clearly listed within the Dentally reporting tools. Learn more.
NHS reporting
We appreciate how busy dental practices are. Dentally provides powerful and immediate reporting tools so you never lose track of your UDAs.
Track the status of your submissions to ensure that your claims are processed successfully and that any errors are dealt with promptly, avoiding late submissions.
Easily manage your NHS contracts with our UDA report, so you can be sure you're on schedule and within contract limits. The Dentally UDA forecast report will flag any un-submitted treatment plans that have a UDA value to be followed up, clearly showing UDAs in danger of being lost. Our reports help you optimise your NHS work.
Learn about NHS claims
NHS fees
You don't have to worry about having the correct NHS fees; they'll simply appear in Dentally in your treatment list when they are released. Updates to fees and transmission specifications are made without software downtime, avoiding disruption to your day.
Orthodontics
An Ortho claim is easily submitted in two stages from Dentally. Once you've undertaken and completed your assessment, simply return to the treatment plan to submit it. The software recognises that there is ortho work to be carried out and allows you to select whether you are submitting your first or second claim to the NHSBSA, depending on whether you have only partially (appliance fitted) or fully completed (appliance removed) the course of orthodontic treatment. Use the NHS Claims report with the Ortho filter to track the status of claims.
Read more about Orthodontics work.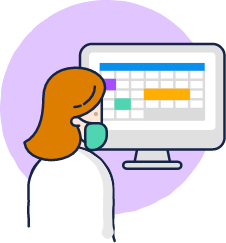 Cloud innovation to transform the way you communicate with patients
We know your patients are your top priority, so we're introducing brand new features to enhance your patient communications. With Dentally, you'll be able to call your patients directly from their record, send SMS links for contactless check-ins and payments, and leverage the power of your data using our patient reports.
FAQs
How secure is our data with Dentally?
Security is at the core of Dentally's design and is delivered in two parts. Firstly, in how we support you and advise on what you can do in terms of your practice and your team through specific privacy features. And second, in how we encrypt your information within our platform to give you complete peace of mind. Read more about user security and platform security.
What makes Dentally different?
As an NHS practice you will save valuable time with reduced admin and greater flexibility. Dentally for NHS practices is efficient, easy to use, with an effortless reporting process to manage your contracts using our secure cloud based software.
Can I manage my NHS contracts easily with Dentally?
Submitting, managing and reporting on your NHS work is simple with Dentally. NHS work is claimed directly from the patient chart with just a few clicks when you complete the plan and feedback on your claims is received the next day. Manage the status of your claims, and track your awarded and forecasted UDAs with real time reporting so you can keep on top of your NHS contracts.
What happens if the internet goes down?
In the rare case that you lose your internet connection, you can still use Dentally. A data hotspot to your mobile phone using a 3G/4G data connection or a back-up router which can run on a SIM card will be more than sufficient to run the software over a mobile connection. Dentally does not require a large amount of data to allow you to run your practice.
What is involved in the onboarding process?
At Dentally we work with you to ensure switching your patient management software is a smooth process from start to finish, collaboratively working with you to ensure a smooth transition from a methodical approach to your data migration, comprehensive training to responsive support. Read more.
What kind of support do you offer?
Responsive support is what we do, whether we are looking after new or existing customers, large or small dental practices. Customers can call us or send us a message within the Dentally software, and our experienced and friendly Customer Success team will respond quickly. Take a look at our support area which features some informative step by step guides to every aspect of Dentally: https://help.dentally.co/en/
How can I link to my digital imaging?
Dentally can integrate with lots of different types of imaging and radiography software. The Dentally imaging bridge allows you to seamlessly open a patient's file in your imaging software with the click of a button.
Can I integrate Dentally with other software tools?
Dentally's API uniquely allows you to securely integrate your patient management software with a number of third party platforms to create an end-to-end clinical and practice workflow, saving you time and resources. Learn more.
Discover how Dentally can help your practice.
Simply select your practice type to find out what Dentally can do for your practice.
...or book a demo with our team.
Decided that Dentally could be right for you? Arrange a demo to see it in action.