Dentally saves you from sweating the small stuff
If you run a dental practice, you'll know as well as we do that patient care always comes first. But you'll also be familiar with the daily demands of practice admin - and that's where we come in.
Software development is in our genes, and Dentally's cutting-edge, cloud-enabled tools are designed to make day-to-day practice management simple, so you're left with more of what's most important - time to treat patients.

Why choose Dentally?
Dentally is all about ease. From practice admin to patient care or managing your team, our software is designed to take the stress out of daily practice life.
Save money - There's no need for expensive hardware and servers. All data is stored securely on the cloud, to keep your practice running smoothly and cost-effectively.
Contactless reception - including online medical history, self check in and payments makes things simple and safer for both your staff and your patients.
Save time - Manage your team and your practice admin seamlessly (whether staff are onsite or working remotely) with features such as task lists, automation and Dentally chat.
Cloud-based - Dentally brings you flexibility and versatility. Our cloud-based software lets you work from anywhere, all you need is Google Chrome.
Link to features
Take a patient's journey
Dentally is made for effortless day-to-day dental practice management. Want to see how? Take a step-by-step tour of your patient's journey to discover how Dentally can help bring flexibility and first-rate patient experiences to your practice.
Take the journey
Integrations and NHS contracts
Third party integrations
It's easy to integrate Dentally with a wide range of third party platforms to keep your practice workflows running smoothly. Whatever you wish to connect - you can do it all with the Dentally developer API.
Find out more
NHS
Dentally works seamlessly with the NHS. You can easily manage, submit and track your NHS contracts. Dedicated reports help you to stay on top of your NHS work.
Find out more
Onboarding with Dentally is as easy as…
Data migration
We'll work with you to arrange a convenient date and time for a smooth, simple data migration
Training
We'll take your team through two days of thorough on-site training so you're all set to get started
On-going support
Once you're up and running, we're always available to answer questions and offer support
Want to know just how easily our customers have switched to Dentally from other systems?
Learn more about onboarding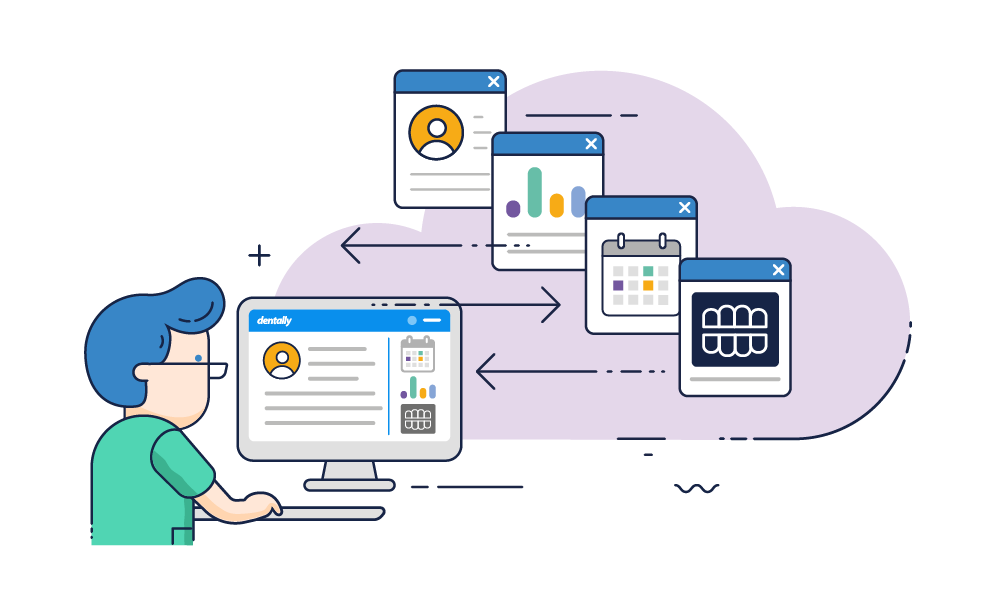 All you need to run your practice seamlessly
We know practice life is hectic. There are a million and one things on your to-do list, from patient communications through to reporting, appointment follow-ups and patient files. And that's not even counting what's most important - time spent with patients. If you want to manage your time and your practice more effectively, you'll want to try Dentally.
| Features list | Other suppliers | |
| --- | --- | --- |
| Cloud-based software, allowing you to work remotely. Use on unlimited computers plus daily updates. | | |
| No Server needed, and you don't need high spec IT and hardware in order to run the software. | | |
| High level of user and platform security including managed backups and fully encrypted database. | | |
| Patient management with simple to use and intuitive appointment book, patient records, and online patient portal tools. | | |
| Patient communications with outbound telephone calls, automated recalls, integrated post, and two way SMS and email. | | |
| Reception tools with contactless reception including self-check-in, online medical history, and payment links. | | |
| Clinical with easy to use charting, treatment plans, Perio, BEWE, BPE, and Ortho. | | |
| Practice admin includes chat, tasks list, Xero integration, and iPad app. | | |
| Reporting is in real-time. There are extensive options including a patient segmentation report. | | |
| Third-party integrations with full API access to connect your apps. | | |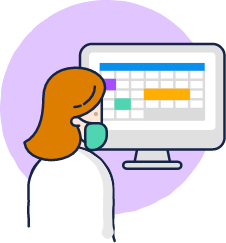 Cloud innovation to transform the way you communicate with patients
We know your patients are your top priority, so we're introducing brand new features to enhance your patient communications. With Dentally, you'll be able to call your patients directly from their record, send SMS links for contactless check-ins and payments, and leverage the power of your data using our patient reports.
Discover how Dentally can help your practice.
Simply select your practice type to find out what Dentally can do for your practice.
...or book a demo with our team.
Decided that Dentally could be right for you? Arrange a demo to see it in action.