Third Party Integrations
Dentally's API uniquely allows you to securely integrate your patient management software with a number of third party platforms to create an end-to-end clinical and practice workflow, saving you time and resources. Whether you need to securely submit and process patient e-referrals, connect your web apps, educate your patients with waiting room TV or market your business, integrated tools work seamlessly with Dentally. Full developer API access is available to allow you to build what you need for your practice processes, and you can find details of how we ensure a secure integration here.
Imaging
Dentally can integrate with lots of different types of imaging and radiography software. The Dentally imaging bridge allows you to seamlessly open a patient's file in your imaging software with the click of a button. Learn more about imaging.
Xero
Dentally is fully integrated with Xero, the online accounting software, to provide a seamless link of your takings to your practice financial accounts. All payments from patients that are recorded within Dentally are automatically imported into Xero, helping you to manage your finances. Watch the video.
FollowApp Care
FollowApp Care is a software platform that automatically monitors your patient's health before and after their appointment. Use their Covid Safety Protocol alert system to support your patient pre-screening and post-monitoring, safeguarding both your patients and staff. Read the Protocol.
Working Feedback
Independent patient reviews can be a powerful tool in attracting new patients and ensuring a consistent approach in your patient care. Dentally integrates with Working Feedback, a simple solution that delivers patient feedback. Read on.
DenGro
Smart follow-up reminders, automated messaging, a dashboard for managing all online patient enquiries as well as a set of simple, but insightful reports are just some of the benefits of DenGro's cloud-based lead management and nurture software. Learn more.
E-referrals
Dentally integrates with NHS services for referring patients to specialists, with Vantage Rego Patient Referrals and Dental Referrals.org. Simply identify your geographical area and they will provide the forms, tools, guides and services for the location. Dentally creates the referral on their platform and provides you with a direct link and status for each referral. e-referrals information here.
MediVision
MediVision is focused on helping your practice grow, producing tools such as dental videos to help educate your patients and showcase your practice. They also offer a waiting room TV solution, PicBox. Watch the video
Zapier
Automation can save you time and resources, improve efficiency and streamline your processes. Zapier allows you to connect your web apps, so you can seamlessly move information as part of your digital practice workflow. Connect your apps today!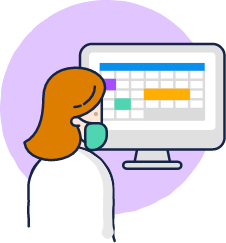 Cloud innovation to transform the way you communicate with patients
We know your patients are your top priority, so we're introducing brand new features to enhance your patient communications. With Dentally, you'll be able to call your patients directly from their record, send SMS links for contactless check-ins and payments, and leverage the power of your data using our patient reports.
Discover how Dentally can help your practice
Simply select your practice type to find out what Dentally can do for your practice.
...or book a demo with our team.
Decided that Dentally could be right for you? Arrange a demo to see it in action.