Designed for all types of dental practices
Dentally helps thousands of practices to run more effectively, giving dentists more time for what matters so patients can receive better treatment
Private dental practice
Dentally for private practices is built to help you reduce costs while growing your business and prioritising patient care. It's flexible, scalable, and reporting is seamless.
Multiple sites dental practice
All the agility you need to build your customer base across multiple sites. A single database brings you effortless intersite communications, shared resources and customisable reporting.
Onboarding with Dentally is as easy as…
Data migration
We'll work with you to arrange a convenient date and time for a smooth, simple data migration
Training
We'll take your team through two days of thorough on-site training so you're all set to get started
On-going support
Once you're up and running, we're always available to answer questions and offer support
Want to know just how easily our customers have switched to Dentally from other systems?
Learn more about onboarding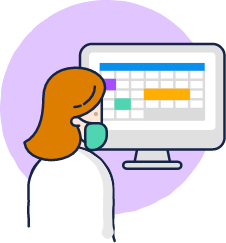 Cloud innovation to transform the way you communicate with patients
We know your patients are your top priority, so we're introducing brand new features to enhance your patient communications. With Dentally, you'll be able to call your patients directly from their record, send SMS links for contactless check-ins and payments, and leverage the power of your data using our patient reports.
Discover how Dentally can help your practice.
Simply select your practice type to find out what Dentally can do for your practice.
...or book a demo with our team.
Decided that Dentally could be right for you? Arrange a demo to see it in action.