Patient Portal
Dentally's Patient Portal is designed to help you manage your existing patients' journeys through your dental practice, helping you to build better relationships and save on reception time.

Seamless experience
Dentally's Patient Portal lets you manage patients' journeys within your dental practice, starting before they arrive at the practice and helping you to build and develop your patient relationships. The Patient Portal is customised with your practice branding, and can be reached by a link sent by email or SMS or by adding a login section to your website. Patients can easily and securely login to manage their medical history, review and sign treatment plans and consent forms, update contact details and pay outstanding balances.
It allows you to handle your patient journey as a 'one stop shop', supporting social distancing and minimising the time patients need to spend with non-clinical staff.
With Dentally Patient Portal your patients can manage their own patient journey, while your reception team benefit from reduced admin time.
Features:
Customised to your practice branding.
Update medical history.
Patients can view their appointments and check in online just prior to their visit.
Invoices can be viewed in the Patient Portal.
Treatment plans and invoices can be downloaded as a PDF.
Allows patients to review and electronically sign treatment plans/consent forms (and view past estimates).
Secure payments to settle outstanding balances.
Patients can update contact details.
Easy to add to your website or you can use a simple link (whether you have a website or not).
Reduces missed appointments.
Desktop and mobile-friendly.
Builds strong patient relationships.
Frees up valuable time for your reception team.
It can work alongside Dentally Online Appointment Booking. Take a look at this feature.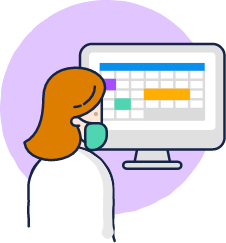 Cloud innovation to transform the way you communicate with patients
We know your patients are your top priority, so we're introducing brand new features to enhance your patient communications. With Dentally, you'll be able to call your patients directly from their record, send SMS links for contactless check-ins and payments, and leverage the power of your data using our patient reports.
Discover how Dentally can help your practice.
Simply select your practice type to find out what Dentally can do for your practice.
...or book a demo with our team.
Decided that Dentally could be right for you? Arrange a demo to see it in action.